04 Oct

Shakshuka – The Ultimate Dinner!

One of our all-time favorite dinners has to be the shakshuka! Some of you may know it, some make it, others have no idea what it is. But one thing's for sure, everyone should add it to their recipe book. Shakshuka, or Shakshouka, is a dish of eggs poached in a sauce of tomatoes, chili peppers, and onions, often spiced with cumin. It is believed to have a Tunisian origin. It's a staple recipe in the Israeli home (as well as Tunisian, Libyan, Algerian, Moroccan, and Egyptian), can be found in most restaurants in Israel, and has many many variations. And here are just a few, those of which we often make at home.
No one dish has revolutionised brunch quite like shakshuka. A staple in the Middle East and North Africa, it hit it's peak popularity a half decade ago when Yotam Ottolenghi included a recipe in his cookbook, Plenty. It made it's way onto people's tables and onto brunch menus at cafes across the country.
- A Kitchen Cat
The simplest of the bunch. It's got just a few ingredients, which makes it a real life saver when short on time or when you realize your fridge is practically empty.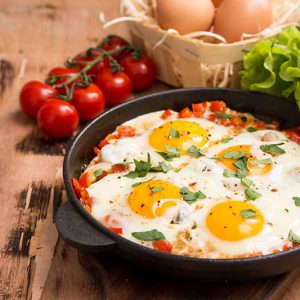 Ingredients:
1 onion
1/2 jar Passata
heaped tsp tomato paste
2 Chopped ripe tomatoes or 2 handfuls cherry tomatoes
Fresh parley or other fresh/dry herbs (one of our favorite is the Provence mix)
ground cumin
1 tsp Maple syrup or honey, to break the sourness
Salt and pepper
Fresh farm eggs (two per person)
Optional: Stale or good old farm bread to serve
Optional: kefir/hummus/tahini to serve
sauté the onion in a bit of butter, add chopped tomatoes and keep stirring until softer. Add about half the parsley, passata, tomato paste, maple, salt and pepper, and bring to a boil. Taste to check flavor, then add the leftover parsley (you can reserve a bit for serving too) and mix.
When the sauce is bubbly and hot, take a big serving spoon, and try to make a hole in the sauce. If too thin, just place the spoon in the sauce, and break the egg over it. While takin out the spoon, push the sauce away a bit, so that the egg ends up in the sauce rather then on top. Do the same thing with the rest of the eggs, and work as quickly as possible.
As soon as all the eggs are in, cover and let cook to your liking. We love it when the eggs are pretty runny. If you like them rather cooked through, you can have the sauce on middle heat rather than high. Another way to go about it is to preheat the oven. Then when all eggs are in the sauce, pop in the oven, on the top rack.
We love eating our shakshuka with kefir, hummus, or tahini. We used to enjoy them spread on bread while we dip in this delicious goodness, but we've learned to appreciate it even more without the bread.
Add the following to upgrade your shakshuka to the next level:
– Cube an eggplant, drizzle with olive oil and pop in a hot oven. Take out when golden and cooked through, and add to the tomato sauce. If you're a feta cheese fan, break some in there as well for extra flavor.
– Chop some sun dried tomatoes and fry with the onion.
– Add jarred smoked peppers for a lovely flavor. Goes really well with the eggplant and feta, or just on it's own.
– Add Harissa or fresh chopped chili for a nice kick.
– Add red and/or yellow peppers to the onion. Soften before adding the rest of the ingredients.
– Add spinach/kale/swiss chard to the basic tomato sauce for a lovely and quick upgrade.
– Chef Yotam Ottolenghi adds cumin seeds, peppers and lots of fresh herbs such as bay leaves, thyme, parsley, coriander and even saffron, and a pinch of cayenne pepper.
There are soooooo many other ways to make Shakshuka. I would say this is one of our favorite versions (a close second alongside sweet potato shakshuka). You can try any variation you want!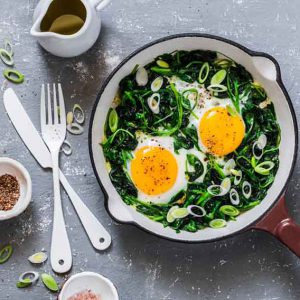 Ingredients:
1-2 onions OR 3-4 spring onions OR 1 large leek

3 garlic cloves (or more if you love it as much as I do)

Butter

Olive oil

500g spinach

250g kale (and/or swiss chard, beet greens, collard greens etc)

A squeeze of lemon

Heavy cream OR a vegan replacement 

Salt and pepper

Optional: chili powder or chili flakes

Optional: Feta cheese

Optional: your favorite fresh or dry herbs such as oregano or mint
In a bit of butter and olive oil, sauté the onions (or spring onions/leek) until soft, adding the garlic half way through.
Add the leafy greens, with a pinch of salt and a squeeze of lemon. Mix well and let the greens shrink in size.
When the greens are cooked, add heavy cream of your choice and season well. If using the feta cheese, add just before adding the cream. Let boil, and then make space for each egg (you might have to do it one at a time). Break in the eggs, trying hard to keep the yolk in tact. Now cover the pan and let the eggs cook until the whites are cooked through.
Enjoy!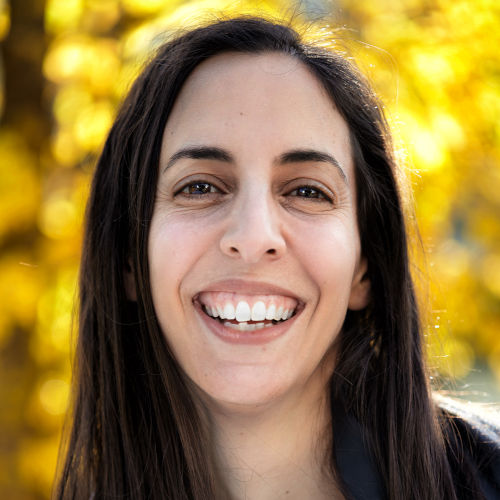 Danna Levy Hoffmann is a Functional Medicine Health Coach, FMCA Certified & IIN Gut Health Certified, with a background in psychology.
Danna helps incredible women understand just how incredible they really are – by working on self love, on healing their relationship with food, and giving their gut what it needs in order to support their health and livelihood. Her goal is to help others reach deliciously sustainable lifestyle changes. Enjoy life, and enjoy every bite of food you eat. No diets, no deprivation!